Pusher Sintering Furnace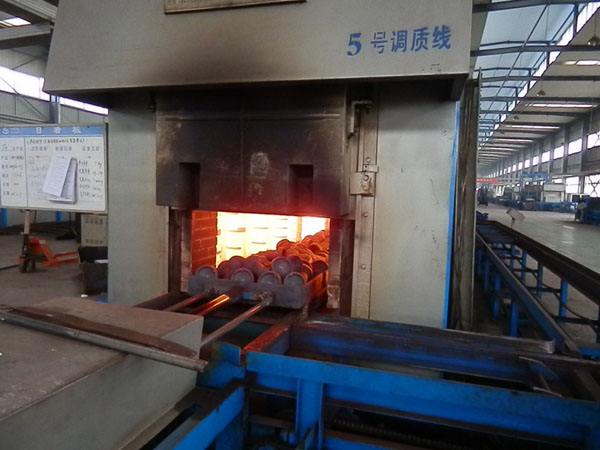 Pusher Sintering Furnace
Use:
Pusher sintering furnace (also known as pusher powder metallurgy furnace, powder metallurgy reduction furnace) is a kind of fullautomatic continuous running powder metallurgical equipment. It is mainly use in the sintering of powder metallurgical products (especially alloy products and stainless steel). It features high automatic and good reliability.
Parameter:
| | | | |
| --- | --- | --- | --- |
| Pallet size(mm) | Preheating temp(℃) | Sintering temp(℃) | Heating power(kW) |
| 300×300 | 950 | 1300 | 162 |
| 360×360 | 950 | 1300 | 198 |
| 460×460 | 950 | 1300 | 252 |
| 610×610 | 950 | 1300 | 336 |
Features:
1) The complete equipment is composed of furnace body, pallet propelling device and temperature control system.
2) Heating elements are distributed at the top and bottom of furnace and can be pulled out thoroughly at the left and right sides of furnace, which is convenient to install and maintain.
3) The temperature control system, which forms closed loop control system to realize automatic accurate temperature control, is composed of thermocouple, intelligent PID regulator with digital display and silicon controlled rectifier.
4) The pusher system is composed of one main pusher and three assistant pushers. They can be set to run respectively to realize the step-by-step recycling of pallet inside and outside of the furnace.
5) The temperature of cooling water is automatically controlled by the make and break of magnetic valve controlled by temperature controlling elements.
6) Because the sintering temperature is high, the alloying of powder metallurgy product is uniform. The strength and hardness of hole and nodulizing can be increased. Specially, the impact resistant gets stronger. The higher diffusion rate can increase the strength and hardenability of mixed powder product.
7) The higher stability promotes more oxide getting reduced, which is favorable to powder forging and other applications.
8) The price of rapid-wear material is lower than that of mesh-belt furnace with the same specifications.

Contact us