Industrial Kiln Furnace Oven Pusher Type Furnace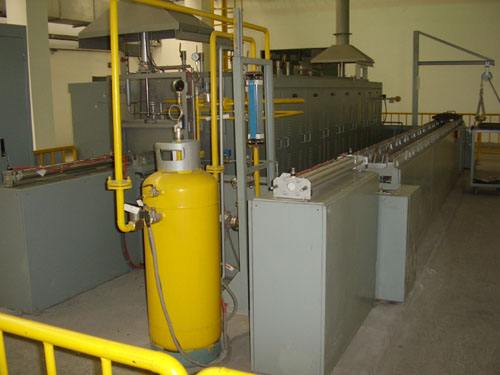 Industrial Kiln Furnace Oven Pusher Type Furnace
Product Description:
Industrial kiln furnace oven pusher type furnace is welded by steel and profiled steel; furnace chamber is ceramic fiber and high quality electric resistance wire, which can save 40% energy than brick furnace chamber. Car Bottom Furnace is mainly used for annealing, normalizing and stress relieving of bars and tubes, forgings, large weldments and castings.

Furnace shell:
Welded with profiled bar and armor plate.The composite energy efficiency furnace lining consists of light chamotte brick,aluminium silicate fiber felt,silicate heat insulator. The lifting and dropping of the furnace cover adopt with electromotor to drive the lifter of worm wheel,worm,and screw mandrel to perform. The
airproof of furnace cover and retort adopt appropriativesealing ring and impacted structure.There are the vent and explosion door on the furnace cover.

Retort:
Adpot heat resistance stainless stell tight weld,and there is the water cooling installation at the top of the retort.

Heating element:
High alloy resistance thread twist on the brick around the furnace chamber.

Controlling system:
The standard configuration is KRG6 series controller.There are the imported digital temperature controller and automatic recording,which could show,record and adjust the temperature automatically.It also have the alarm protective function.

Alsocan adopt the KRG7 series controller according the processing requirement.The accuracy of the silicon control PID
regulating electric furnace controller is ±10°c.
Contact us