D671x wafer type pneumatic butterfly valve
Product overview
D671x pneumatic double clip butterfly valve adopts double eccentric structure, which has the sealing function of closing more tightly, and the sealing performance is reliable. Stainless steel and NBR oil resistant rubber are used as sealing materials, which have long service life. The rubber seal ring can be located on the valve body or butterfly plate. It can be used in different media for users to choose. The butterfly plate adopts frame structure with high strength, large flow area and small flow resistance. It can be used in different media as long as the sealing material of sealing valve seat is replaced. D671x pneumatic double clip butterfly valve has two-way sealing function. It can be installed in any direction without the control of medium flow direction and space position. The valve has unique structure, flexible operation, labor saving and convenience.
Structural features
D671x pneumatic double clip butterfly valve adopts the sandwich center plate structure, which is mainly composed of valve body, valve plate, valve shaft, valve seat and transmission device. It has simple and compact structure, small size and light weight, convenient transportation, installation and disassembly; 90 ° opening and closing, quick opening and closing, small operation torque, labor saving and lightweight; good sealing performance, long service life, and zero leakage; its flow characteristics are similar to straight line, Good regulation performance. The valve is a rubber seal. When closed, the butterfly plate and valve seat have good sealing performance, two-way sealing performance is excellent, and the torque value is small. The valve maintains 100% zero leakage under working pressure, and the friction between butterfly plate and seat seal is small. D671x pneumatic double clip butterfly valve is driven by the valve shaft, and the valve plate rotates 90 degrees. The butterfly plate can be opened and closed flexibly without jamming and jumping, and the torque is small.
Purpose
The d671x pneumatic double clip butterfly valve is widely used in waterworks, power plants, steel mills, papermaking, chemical industry, light textile, food and other water supply and drainage, gas pipelines for regulating flow and intercepting medium.
Technical parameters of pneumatic actuator
D671x pneumatic double clip butterfly valve adopts new Series GT type pneumatic actuators, including double acting type and single acting type (spring return), gear transmission, safe and reliable; large diameter valve adopts aw type pneumatic actuator fork type transmission, with reasonable structure and large output torque.
1. Cut off type accessories: single electric control solenoid valve, double electric control solenoid valve, limit switch feedback device
2. Adjustable accessories: Electric positioner, pneumatic positioner and electric converter
3. Air source treatment accessories: air filter pressure regulating valve, air source treatment triple parts
4. The electric pneumatic valve positioner is adopted, which is powered by electric signal and compressed air, receives 0-10mA DC or 4-20mA DC current signal from the control system. The regulator converts the compressed air into the air source pressure signal input and output, and changes the rotation angle of the valve plate (0-90 ° arbitrary angle), which has better parameters such as flow regulation and control
5. Using electromagnetic directional valve, valve position feedback device, AC 220 V or DC 24 V power supply voltage and compressed air as power, fast two position cut-off control of fluid medium is realized. The pneumatic actuator adopts piston cylinder and crank arm conversion structure, with large output torque, small volume, fully sealed waterproof design and high protection level
6. The cylinder block adopts mirror cylinder, no oil lubrication, small friction coefficient, corrosion resistance, super durability and reliability. All drive bearings adopt boundary self-lubricating bearing without oil lubrication to ensure that the transmission shaft is not damaged
Main shape and connection dimension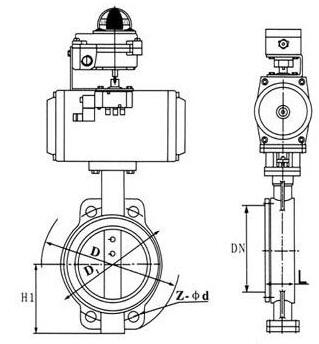 Nominal diameter DN (mm)

Structure length (mm)

Overall dimension (mm)

Connection size (standard value)

0.6MPa

1.0MPa

1.6MPa

毫米

英寸

L

H1

H0

A

B

D0

n-d

D0

n-d

D0

n-d

50

2"

43

63

315

180

65

110

4-14

125

4-18

125

4-18

65

2 1/2"

46

70

330

180

65

130

4-14

145

4-18

145

4-18

80

3"

46

83

390

245

72

150

4-18

160

8-18

160

8-18

100

4"

52

105

431

240

72

170

4-18

180

8-18

180

8-18

125

5"

56

115

455

240

72

200

8-18

210

8-18

210

8-18

150

6"

56

137

626

350

93

225

8-18

240

8-22

240

8-22

200

8"

60

164

720

350

93

280

8-18

295

8-22

295

12-22

250

10

68

206

800

550

350

335

12-18

350

12-22

355

12-26

300

12

78

230

860

600

350

395

12-22

400

12-22

410

12-26

350

14

78

248

883

600

350

445

12-22

460

16-22

470

16-26

400

16

102

89

972

600

350

495

16-22

515

16-26

525

16-30

450

18

114

320

1043

750

380

550

16-22

565

20-26

585

20-30

500

20

127

343

1098

750

380

600

20-22

620

20-26

650

20-33

600

24

154

413

1236

750

380

705

20-26

725

20-30

770

20-36

700

28

165

478

1431

750

380

810

24-26

840

24-30

840

24-36

800

32

190

25

1488

750

380

920

24-30

950

24-33

950

24-39

900

36

203

620

1615

1250

380

1020

24-30

1050

28-33

1050

28-39

1000

40

216

725

1795

1500

580

1120

28-30

1160

28-36

1170

28-42

1200

48

254

780

1976

1500

580

1340

32-33

1380

32-39

1390

32-48
Contact us