Laboratory High Temperature Vacuum Furnace
To facilitate the operation of a combustion cycle in which atmospheric conditions can be changed from oxidation (e.g. air to inert atmosphere) or from argon / nitrogen to crude vacuum.
This type of furnace can be used in a multi atmosphere process in one cycle: the adhesive is burned in the air, and the parts are sintered in a vacuum or inert gas atmosphere.
These furnaces are designed for precise air / inert gas flow control, precise temperature control, excellent temperature uniformity, durable performance and safe operation.
Very suitable for laboratory and small scale production, with temperature up to 1600c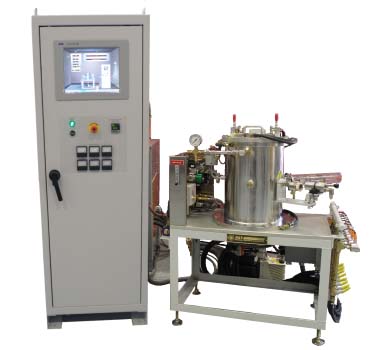 Specifications




Inside Chamber Size & material






4" x 4" x 5"

6" x 6" x 6"

8" x 8" x 8"

10" x10" x12"

12" x 12" x 16"

18" x 18" x 18"

24" x 24" x 24"
| | |
| --- | --- |
| Temperature in air and argon gas (°C) | 1600°C |
| Temperature in vacuum(°C) | 1500°C |
| Vacuum | 1x10-3 |
| Temperature Control | PID automatic control via SCR (Silicon Controlled Rectifier) power control, e. g. current limiting phase angle fired the resistor with 30 programmable segments. |
| Temperature Accuracy | +/-1 °C |
| Heating Element | U type MoSi2 |
| Thermocouple | B Type (Pt-Rh to Pt-Rh) with Alumina tube |
| Working Voltage | AC 208V-240V single phase, 50/60 Hz (100A air breaker is required) |
| Max. Power | 3kw-50kw |
| Warranty | One year limited warranty (Consumable parts such as processing tubes, o-rings and heating elements are not covered by the warranty) |
Contact us