New Industry Rust Removal Laser Cleaning Machine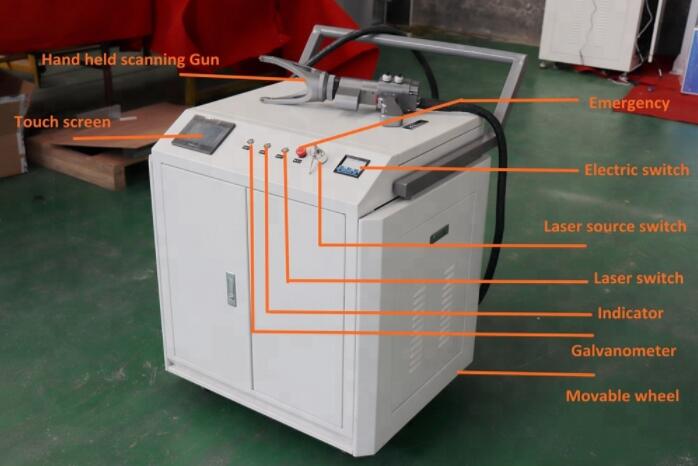 New Industry Rust Removal Laser Cleaning Machine
Introduction:
It is a new generation of surface cleaning high-tech products. It is very easy to install, manipulate and achieve automate. Easy operation, you only turn on the power and open the device, machine will be cleaned with no chemical reagents, no media, no dust and no water. With the advantage of manual adjustment of the focus, fit curved surface cleaning, good surface cleanliness and so on . Laser cleaning machine can clean the resin of subject surface, oil stains, stains, dirt, rust, coating, coating, paint.
Advantage:
*Non-contact cleaning, does not damage the part substrate.
*Precise cleaning for precise positioning and precise size selection.
*Without any chemical cleaning solution, no supplies, safety and protect environment.
*Simple operation, turn on the power, you can achieve automated cleaning by hand-held or with a robot.
*High cleaning efficiency, saving time.
*Laser cleaning system is stable, almost no maintenance.

Application:
Laser cleaning machine is professional for metal material cleaning, coated cleaning, etc. Such as such as carbon steel,stainless steel, coated products, etc. It is widely used in Mold industry, Military equipment industry, Precision machinery industry, Shipbuilding and marine engineering industry, Construction machinery and heavy industry, Car manufacturer industry, Electronic and Semiconductor industry, nuclear power plant industry, Building facades and cultural relics protection industry, etc.

Technical parameters:
| | |
| --- | --- |
| Power | 100W |
| Supply voltage | Single-phase 220V ± 10%, 50 / 60Hz AC |
| Power consumption | 800W |
| Set the environment | Flat, no vibration, no impact |
| Working temperature | 0℃~40℃ |
| Work environment humidity | ≤80% |
| Fiber length | 5m(10 meters can be customized) |
| Cleaning head weight | 2KG |
| Move way | Hand pushing |
| Scanning width | 10-80mm |
| Laser average power | ≥200W |
| Output power instability | <3% |
| Power adjustment range(%) | 10-100(Adjustable gradient) |
| Focus spot diameter | 9mm |
| Center wavelength | 1064nm |
| repeat frequency | 20-200KHZ(Adjustable gradient) |
| Single pulse energy | 8mJ |
| Peak power maximum | 10kw |
| Spot diameter | 9mm |
| Pulse intensity | 8mJ |
| Cleaning efficiency | 35m2/h |
| focal length | 160m |
| cooling model | Air cooling |
| Size | 850mm×700mm×880mm |
| Machine Weight | 140KG |
Contact us